MAY 27, 2022

President, Mary Lang and Principal, Martha Tedesco
This is the last Friday Rocket Report for the 2021-2022 school year as summer vacation begins after exams today for our students. Our school office will be open during the summer months Monday through Friday from 8:00-3:00 p.m. starting Tuesday, May 31, and ending Friday, July 29.  Please feel free to call at any time. We will continue to give updates for the upcoming school year as usual during the summer through Special Messages via email.
We are grateful for another successful year where our community continued to "Open New Doors" in so many ways! Thank you for your support and for sharing your daughter with us.  We hope that you and your family enjoy a fun-filled, healthy, and safe summer!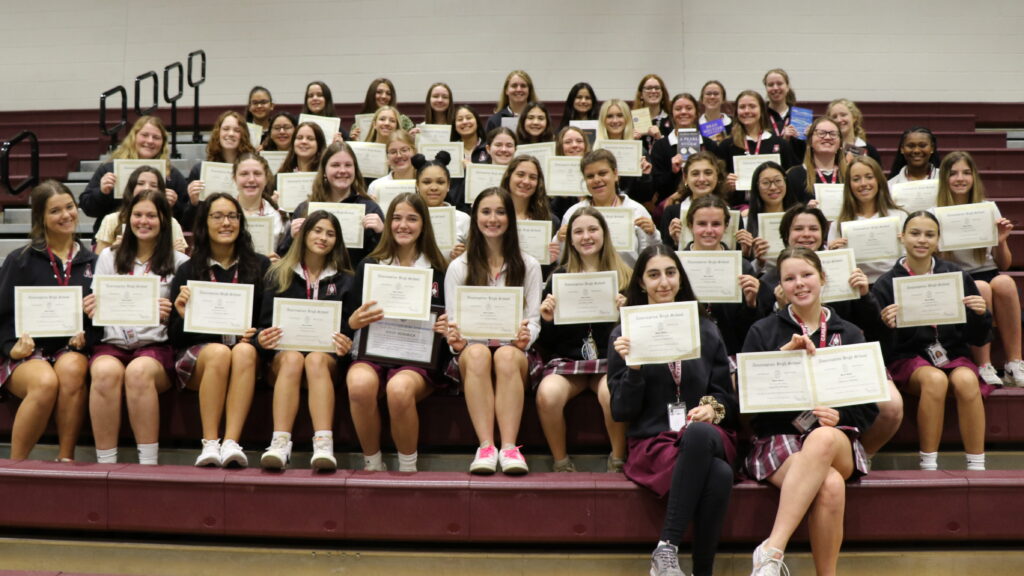 Congratulations to the 2022-2023 school year Scholarship Award Recipients, who were celebrated at the End of the Year Celebration. With the incredible generosity from our many donors, Assumption is able to award over $100,000 to students each year.
To see a full list of scholarships and recipients, click here!

As we end our school year, our positive COVID cases for this week and the semester are:
This week: (reporting from Friday 5/20 to Thursday 5/26): AHS had 5 new positive COVID cases – 2 students and 3 faculty/staff members.
This semester: AHS has had 246 positive COVID cases: 211 were students and 35 were faculty/staff. 

MAKE-UP EXAMS: Makeup exams will be given on Tuesday, May 31, at 9:00 a.m. in Room 204. Student must have a doctor's note or a release from our school nurse, Laura Burnam, to make up any exam.

The Community of Assumption is deeply saddened by the tragic loss of life at Robb Elementary in Texas this week.  Pope Francis, the U.S. Catholic Conference of Bishops, and the Sisters of Mercy who sponsor our school have all called on all the faithful to pray for the victims and their families and to advocate for public policies that seek to minimize such tragedies in the future.  Therefore, students were offered an opportunity to join together outside of school in prayer and solidarity between our last two exam blocks today.  The activity was completely optional and involved quiet prayer for those who lost their lives this week and communal support for an end to gun violence. 

SUMMER MAILING:  All families enrolled for the 2022-2023 school year will receive a mailing in mid to late July with information about the start of school.  Please check with the school office if you do not receive the mailing as there will be important information to complete for the beginning of the school year.
UNIFORM/SPIRIT WEAR DONATIONS: The Guidance and Counseling Department is now accepting uniform/spirit wear donations.  Do you have any extra uniform pieces or spirit wear around your house?  The Counseling Office uses the donated uniforms for three purposes.  The Rocket Parent Network sells donated uniform pieces to raise money for their scholarships.  The counselors also use donated uniform pieces to help students in financial need and for whom the replacement of a uniform piece would be cost prohibitive.  We also have a lending closet in the Counseling Office for students who happen to forget a skirt or uniform piece.  We are able to help these students out by lending them a uniform item for a day.  Donated uniforms may be dropped off in the Counseling Office anytime.  We sincerely appreciate your consideration and help with this endeavor.
FINAL REPORT CARDS:  Final report cards for the 2021-2022 school year will be emailed no later than June 3.
PURCHASING BOOKS FOR 2022-2023 SCHOOL YEAR:  Assumption's MBS Direct bookstore will open on July 4, and our free shipping week will be July 4-10, 2022.  When you log onto MBSDirect.net with your daughter's student ID number, it will link to her list of books.  Book titles and ISBN numbers will be available for purchase through MBS.  You are welcome to use this information to shop via other sources (ex. Amazon) if you would prefer.  Please pay special attention to any "student message" listed at the top of the page regarding digital versions of texts.  Most courses allow for student choice.  Also, all art fee courses must be paid via MBS Direct. Please note:  MBS Direct is the official supplier of textbooks for AHS students and works closely with the school to have all textbooks to the students by the start of school. If you choose to order books from a different online source, this needs to be done early enough to make sure the student has her books prior to the start of school; a student will not be excused from having a textbook if it was ordered late or from a vendor other than MBS Direct.
SUMMER READING:  Students received their summer reading requirements in English classes this week.  These requirements can also be found on the website under Current Parents and through this link: SUMMER READING 2022. Summer reading is an important component of the English curriculum, and the books read in the summer will be incorporated into the first unit of study in your daughter's English class next school year.  PLEASE NOTE: If a student decides to make any schedule changes over the summer that result in a change in academic level for English, she is required to read the book assigned for that level, which may be a different book and/or a different assignment.  She will need to find the correct summer reading assignment on the website.
SHAHEEN'S JUNE UNIFORM SALE: Shaheen's will be having a special Uniform Sale June 1-July 2. You are invited to buy uniforms early and receive a 10% off storewide discount. Please consider taking advantage of this special opportunity, especially if your daughter has grown over the past year.  Please look at the length of her skirt in particular as many girls' skirt lengths have crept up to unacceptable lengths. Rising sophomores will need ACTS pants for next year, and some of your daughters may have decided that they'd like a uniform quarter-zip sweatshirt after all. The June Uniform Sale would be a great time to make these purchases.  As a neat and appropriate uniform teaches our students to have pride in their own appearance as well as in their school, we ask for your help by investing in your daughter's uniform for 2022-2023 school year. Click here for a flier with the details about Shaheen's best sale of the year. 
ACT TEST PREP FOR SOPHOMORES AND JUNIORS:  We are offering our students the opportunity to partner with TorchPrep, an innovative test training program that cracks the code on improving ACT scores. TorchPrep has continually yielded outstanding ACT scores for our students. Last year, Assumption students who participated in TorchPrep saw an average score increase of 2.2 points. All courses include 30 hours of direct training, four full-length simulated tests, TorchPrep training manual, customized study plan, and guaranteed results.  The training program will take place at Assumption June 6 – 11 from 9:00 a.m. – 4:30 p.m.  Early registration deadline is May 30.  More information about programs, registration, and fees can be found at www.torchprep.com.
SUMMER ACADEMIC OPPORTUNITIES: Academic opportunities for the summer have been updated. You can find these on our guidance department page by clicking here: SUMMER ACADEMIC OPPORTUNITIES. There are numerous opportunities available with many costing less than $1,000. Programs are grouped according to areas of interest like STEM or creative arts/design or general summer pre-college programs, etc. Applications are due in March and require the assistance of guidance for transcript releases, recommendations, and other documentation. Please contact LEIGH JACKSON or KIM HABICH with any questions.
INTERNATIONAL TRIP – GREECE 2023:  A trip to GREECE for a weeklong Greek Isle Cruise is being planned for Spring Break 2023.  Students in the classes of 2023, 2024, 2025, and 2026 and their parents/sisters are eligible to travel. This trip is priced right, and the cost is all-inclusive.  You can go ahead and register to save your spot, but deposits aren't required until June 1, 2022, with risk-free cancellation until September 1, 2022.  Want to find out more about this incredible opportunity?  Contact Dr. Lisa Wieland at lisa.wieland@ahsrockets.org or check out our trip website:  https://acis.com/tripsite-trip-overview/?key=MjAyM3w4OTM4Mg 
WOMEN HELPING WOMEN SERVICE-LEARNING PROJECT: The AHS Alumnae Association is hosting the fourth annual Women Helping Women Service-Learning Project on Tuesday, May 31, from 6:00-7:30 p.m. in the AHS cafeteria. They have partnered with Beaded Treasures, a local nonprofit focused on empowering women to become economically independent and learn entrepreneurial skills. During this event, attendees will learn about the organization, help them sort and price beads, as well as participate in a pop-up shopping experience. While this is an alumnae event, all are welcome to come and participate. Please RSVP by May 24. Any questions, please contact Abby Martin. 
ALUMNAE NIGHT AT RACING FC:  ​AHS alumnae, family, and friends are invited to Assumption's Alumnae Night at Racing FC on Saturday, June 11! Start your summer off right with a night of soccer and fun at Lynn Family Stadium. Racing Louisville FC will be playing Angel City FC, one of the most anticipated matches of the season. The match starts at 8:00 p.m. but get there early to enjoy the Fan Zone from 6:30-7:30 p.m. with inflatables, yard games, mini pitch soccer, and drink specials! Plus all alumnae attendees will get a free AHS gift and the first 20 alums to check in will get a food and drink voucher. Don't miss your chance to get a ticket in Assumption's reserved section! Any questions, please contact Abby Martin. 
APO (Assumption Parent Organization)  Thank you for a wonderful year! – The APO board and class representatives would like to thank all of our terrific parents who have graciously shared their time, talents, and treasures to make the events we hosted not only fun but memorable. Without your help, we could not have had such great and successful events as the AHS Walk/Rocket Raffle, Rocket Spectacular 2022, the Faculty/Staff Appreciation Luncheon, and many more. Without your help and support, we would not have been able to make the events happen! We are looking forward to a just as exciting 2022-2023!

SENIOR TRANSCRIPTS:  Senior parents, final transcripts will be sent to your daughter's college or university (and NCAA, if applicable) in mid-June.  This is the university that she indicated on her final transcript request form she completed during graduation practice.  She may start to receive reminders from her university.  She does not have to contact the Guidance Office regarding those reminders unless she needs to change the university she listed on her final transcript form.

SENIOR PORTRAITS:  Two weeks ago in a class meeting, the juniors (rising seniors) were given important information about having their senior portraits taken at Illumination Studio.  They will also receive a mailing from Illumination Studio with all of the information they will need.  Here is a link to the information for your review: AHS SENIOR PORTRAIT INFORMATION. Please make sure to read the information so that you can schedule your student's portrait session before we return to school in August. You are welcome to have your student's senior photos taken anywhere, but you must have her drape photo (her official senior portrait) taken at Illumination Studio before school begins in August. If you have questions, please contact Illumination Studio at 502-585-3103 or you can email Beth Smith at bsmith@studioillumination.com.
COLLEGE ADVISING DATES FOR JUNIORS:  Leigh Jackson and Kimberly Habich, college counselors, will be available on several dates at the end of May and into the month of June to meet with current juniors (our rising seniors) and their parents to discuss the college application process.  Mrs. Jackson, who works with the first part of the alphabet (A-K), and Mrs. Habich, who works with the latter part of the alphabet (L-Z), will each be available from 8:00 a.m. to 2:00 p.m. on the following dates:  Tuesday, May 31, through Friday, June 10.  Please contact via email to set up an appointment – LEIGH JACKSON or KIMBERLY HABICH .

JUNIOR ACTS SERVICE HOURS: Sophomores (rising juniors) are encouraged to start their 15 hours of junior ACTS service the summer before their junior year. Please see the Junior ACTS Syllabus linked here for more information: JUNIOR ACTS SYLLABUS.

Congratulations to faculty member Sandy Maxted who received the Karen Russ Excellence in Teaching Award at the End-of- the-Year Celebration this week. Congratulations also go to staff member Amy Schelb who was honored with the TEA Award. These awards are the highest awards presented each year to members of our faculty and staff for their dedication to our community. Thank you to Mrs. Maxted and Mrs. Schelb for all they do for the community of Assumption!
The newly elected junior officers of the National English Honor Society:
President: Cassady Brockman
Vice President: Sofia Poma
Secretary: Sophia Young
The newly elected Senior Beta Club officers for the 2022-2023 school year:
President: Taylor Swiatek
Vice President: Mary-Claire Schmidt
Secretary: Elizabeth Lucas
Historian: Anna Alphin
The new leadership team of the National Honor Society for the 2022-2023 school year. The team includes:
President: Ava Fears
Vice-President: Audrey Wintergerst
Treasurer: Josie Deye
Secretary: Sarah Keal
Historian: Bella Bergner
Freshman Sabrina Paul for her recent win of the Louisville Free Public Library's Cotter Cup Poetry Contest which focuses on storytelling through poetry. Sabrina won first place in the high school division and will be attending an award ceremony in June at the Western Branch Library. Congratulations, Sabrina! We are so proud of your efforts!

PHYSICALS:  For athletes:  A reminder to all parents of Assumption athletes: It is required by the KHSAA that your daughter have a current physical on file with the athletic office before she may participate in tryouts or practice of any kind. This physical must be submitted on the KHSAA physical form. Fall sports tryouts begin July 15. Please call and make a doctor's appointment today with your daughter's primary care physician. There are no group physicals offered here at school.  Both forms can be accessed here on our website: AHS and KHSAA PHYSICAL FORMS
Congratulations to:
The softball team for winning the district championship with a 7-5 win over Male
The track team for a strong performance in their Regional meet. The 4x800m team of Lila Bensenhaver, Leah Penick, Sophie Bouldin, and Regan Gilmore finished in first place. Regan Gilmore won the 3200m and Leah Penick came in 2nd. These girls have qualified for the State meet in their events.  
Other State qualifiers are:      
Julia Schmitt in the 1600m
The 4x200m team of Kayla Jacinto, Kate Kolokowsky, Kendall Norrenbrock, and Bella Siegel
The 4x400m, team of Sophie Bouldin, Julia Schmitt, Mattie Whitworth, and Sophie Jerome
The Tennis team for winning 7th region runner up: Addison Littlefield, Abby McClellan, Isabel Winebrenner, McKenzie Morgan, Clare Hudson and Katherine Hudson.
Both Tennis doubles teams will advance to state: Isabel Winebrenner/McKenzie Morgan and Clare Hudson/Katherine Hudson
Next week in Athletics:
Saturday, May 28
Softball Regionals vs Atherton @ the Green 11:00 a.m.
Sunday, May 29
Softball Regionals Semi Finals @ UofL Ulmer Stadium 3:00 p.m.
Monday, May 30
Softball Regional Finals @ UofL Ulmer Stadium 5:30 p.m.
Track and Tennis will begin their state championships next week!
Please follow Rocket Sports on Social media for schedule updates and scores!