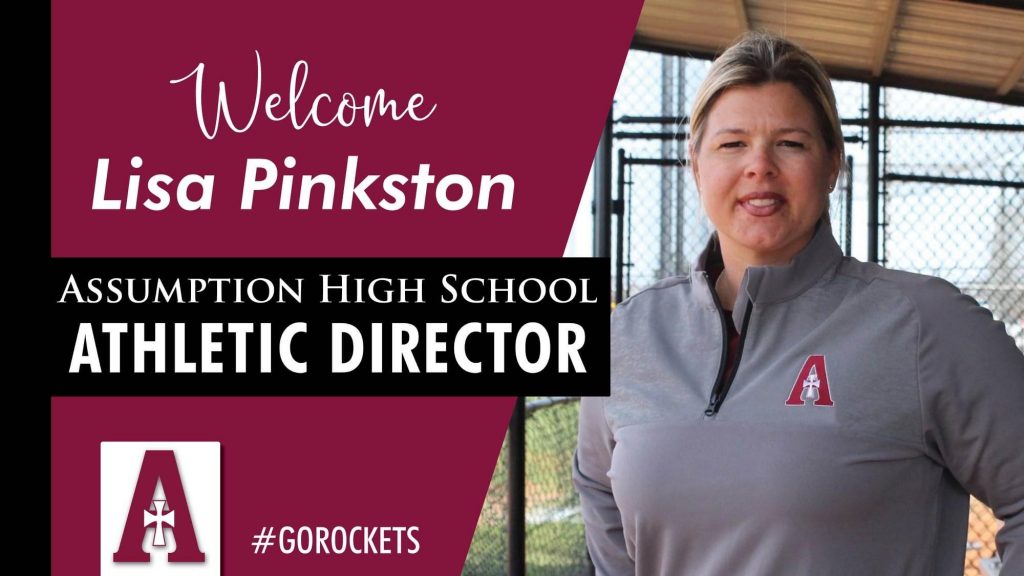 We are excited to announce that Lisa Pinkston will serve as the next Athletic Director at Assumption High School!
"With her extensive background in athletics, from player to coach to athletic and business administrator, Lisa has developed a wealth of experience and skills that will serve Assumption High School well. In her work at Assumption, she has proven herself to be a skilled and effective leader who understands, supports, and advances the mission, values, and vision of our community. Her drive, passion, and enthusiasm for our school and our students are evident, and she brings a dedication and commitment to advancing our athletic program in new and dynamic ways," president Mary Lang stated.
Lisa's expansive athletic and business background makes her uniquely positioned to lead Assumption forward as Athletic Director. Her experience at the collegiate level includes competing as a Division 1 student-athlete and working as the Director of Softball Operations at the University of Louisville. Most recently, she has served as vice president of Indiana Fusion Elite Travel Softball Organization and as owner of Softball Preps while also serving as Assumption's head softball coach since 2015. During her tenure as the Rockets' head softball coach, she has been instrumental in expanding the program, spearheading such initiatives as the addition of a state- of- the art indoor training facility and installation of a new turf softball field at the Assumption Green Athletic and Educational Complex.
"My time with Assumption over the last six years has given me confidence that I am taking over an athletic program that is already known for its excellence. But I am ready and excited to help to take it to the next level," Lisa shared. "As athletic director, I am honored to serve, lead, and work alongside coaches who are already proven winners. I am looking forward to empowering our student-athletes to take on new leadership roles and to bridging the gap between the school and the athletic department to create a more inclusive championship culture."
Lisa and her husband, Chad, have two sons, Ben and George, and are members of St. Michael Catholic Church.
We welcome Lisa into her new role as Athletic Director beginning April 6 and are eager to see her vision come to life! #GoRockets 🚀