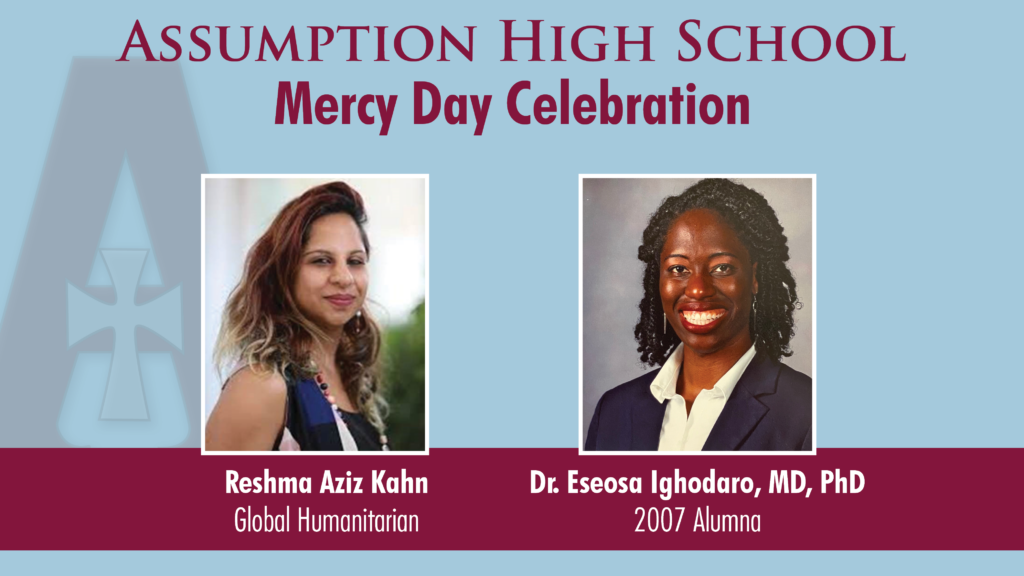 Today we celebrated our Mercy heritage with a virtual Mercy Day Celebration for all of our students, faculty and staff. We were fortunate to have two guest speakers, who helped us with our mission to educate our young women about the critical concerns of the Sisters of Mercy, which include racism and social injustice. Reshma Aziz Kahn and Dr. Eseosa Ighodaro '07, MD, PhD inspired us with their work and their insights into how each of us can make a difference in a world that is too often divided.
Our first guest, Reshma Aziz Kahn is an expert in global humanitarian support and diversity. At the virtual assembly, senior Tiya Mansfield asked Ms. Kahn an important question: "What are some positive ways we can be active in demonstrating the importance of diversity and racial justice?"
Ms. Kahn responded with a call to action. "I truly believe that today each of us has a responsibility to be our brother and sister's keeper, regardless of their race or any other defining diversity.  Our world can only be a better place if we play a part in it.  And if we believe we cannot make a difference…we need to think again…Each of us has the power to do something."  She went on to describe three important things we can do as individuals.  First, we need to listen to each other and create safe places where people can share their stories.  Second, she urged students to volunteer because service unites us as one family.  And third, she said that we each need to understand and acknowledge our own privilege. 
Our theme this year at AHS is "We are Home," and, with Ms. Kahn's words in mind, at today's assembly, we talked about enlarging our definition of "home" to include the entire human family.  "Home" has another meaning for us today since our home is the City of Louisville.  We understand that an announcement will be made today regarding the investigation into the death of Breonna Taylor.  We do not know what it will say or how people will react.  But we do know that we are a people of mercy, and mercy is bigger and more powerful than any division among us.   
Our second speaker, Dr. Ighodaro, was the first African-American woman to complete the combined MD/PhD program at the University of Kentucky College of Medicine. Today she received the Sisters of Mercy's "Who Will Tell the Story?" medal for her efforts to live out mercy values in her own life and for inspiring others to do the same. At the assembly, Dr. Ighodaro shared her story of activism on race and inclusion in her work while at the University of Kentucky. During her remarks, Dr. Ighodaro said, "In life, if you see something that isn't right, change it." It is our right and privilege as U.S. citizens to protest injustice, but it is never okay to use violence in doing so. The Gospel calls us to be our brother's and sister's keepers, and we do this by making choices every single day with our words and actions. 

As our speakers made clear this morning, it's important for us to work toward racial justice in ways that promote peace and compassion.  Moving forward, the community of Assumption will continue to call our students to act with mercy and engage all members of our community with compassion.