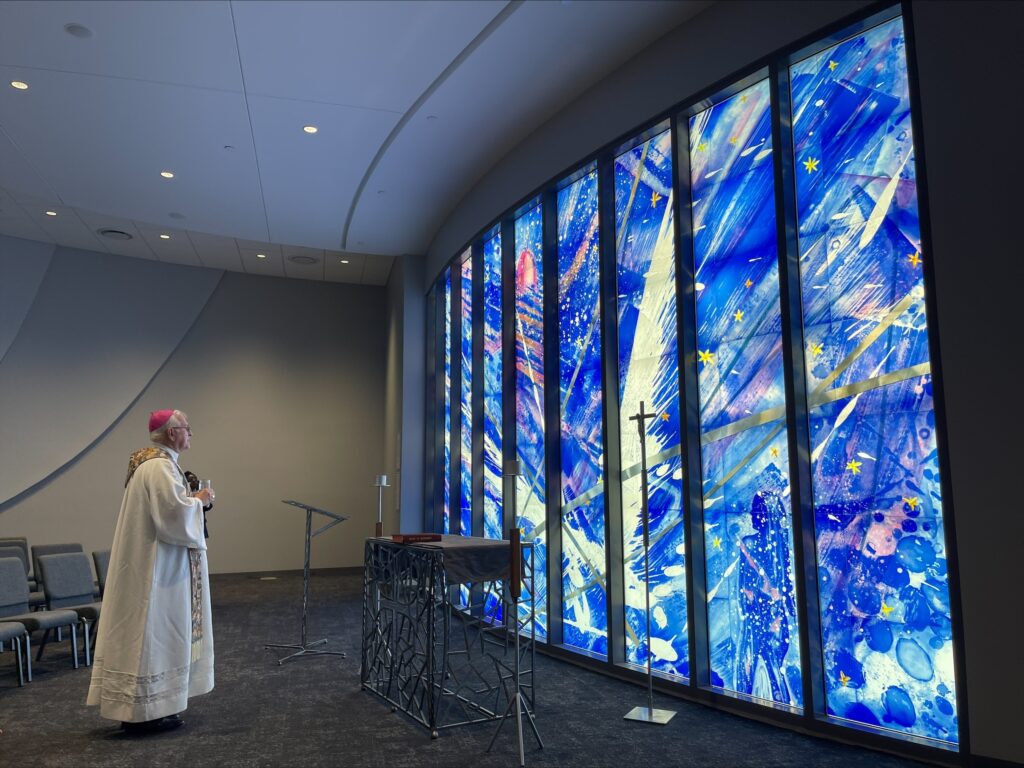 On Thursday, August 5, Most Reverend Joseph E. Kurtz, D.D., Archbishop of Louisville joined Assumption High School board members, leaders, donors, and capital campaign committee members to bless and dedicate the school's campus expansion located at 2170 Tyler Lane. The construction project was part of the school's $8 million capital campaign – Launching the Future of Assumption High School. The larger portion of the campaign, $6 million, is devoted to the campus expansion, and $2 million is dedicated for growth in the school's endowment specifically directed to offering more financial aid in the future.
The beautiful stained-glass window that spans 25 feet and is 17 feet high and is the featured element of the school's new Chapel and a focus overlooking the atrium. The window, titled "Becoming", was created by local artisan, Guy Kemper and was donated by two grateful parents, who wish to remain anonymous. Guy Kemper's ties with the school began when he lived across from Assumption as he attended St. Raphael Catholic Church.
About the Stained-Glass Window

By the "YES" of one woman, the world was changed forever. Mary's Assumption into heaven celebrated a bold, powerful woman who lived her life "fully alive" as the person God created her to be. High school is a time of transformation – each young woman is called to develop her gifts so she can bring God's love and light into the world. Catherine McAuley and the Sisters of Mercy made it their life's mission to educate young women so they would do just that. Catherine McAuley noted, "No work of charity can be more productive to the good of society than the careful instruction of women." Since 1955, Assumption High School has carried on that tradition, recognizing the dignity and worth of every young woman, helping them to develop their unique gifts, and encouraging each student to be a shining lamp who shares that light with the world.
The donors have dedicated this window to the staff and students of Assumption High School – past, present, and future. May they continue to let their light shine.
The stained glass was fabricated by Rahmi Schulz at Derix Glasstudios in Taunusstein, Germany and shipped to Assumption. The installation of the glass took a several days as each panel had to be carefully lifted and placed into it's new home. The install was complete on May, 28, 2021.
About our artist, Guy Kemper:
In 1999, Guy began collaborating with master glass blowers and craftspeople, experimenting with both ancient and cutting-edge techniques to make work that has garnered worldwide acclaim.
His work has been published, exhibited, and collected in the United States, Europe, Japan and the Middle East and been the subject of three documentary films. Projects include Chicago O'Hare, Baltimore/Washington, Orlando, Nashville, and St. Pete/Clearwater airports, Mt. Baker rail station in Seattle, and the Catholic Memorial at Ground Zero in New York.
Guy lives and works on his 95-acre farm of cliffs and waterfalls in Woodford County, Kentucky.
To see the chapel for yourself, join us for the Grand Opening and Rocket Day on Saturday, August 21 from 11:00 a.m. – 3:00 p.m. For more details, visit the Facebook Event page here.