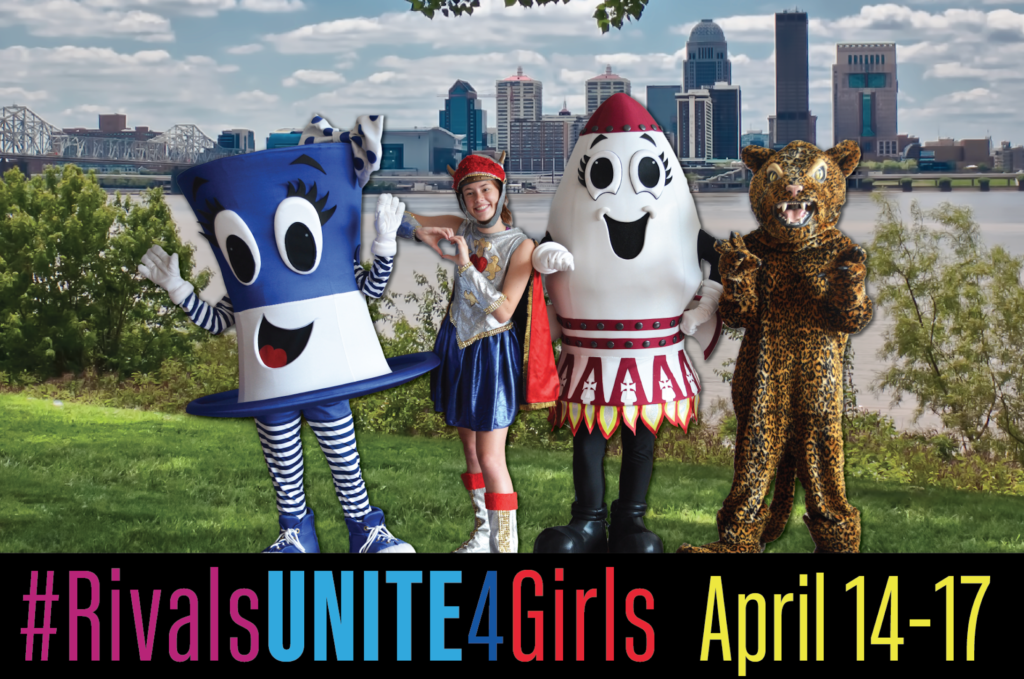 For the past four years, Assumption, Mercy, Presentation, and Sacred Heart alumnae have participated in #RivalsUnite4Girls, an annual fund challenge between all four Catholic girls' schools in Louisville.
As we face the challenges posed by COVID-19, we know many of our current and future families will face financial hardships and we want to continue to provide the quality education each student deserves at all our schools. We know there will be a growing need for financial assistance in the days and months ahead.
Now in our fifth year, all four schools have decided that we want to come together in support of education and take out the competition element of this challenge. During this time of uncertainty, we are standing together. We also wanted to extend this invitation beyond our alumnae and invite all of our community to participate this year.
We understand that many of you are experiencing economic hardships yourselves and understand that right now you may not be able to participate. However, if you are able, we invite you to stand with us as we come together as four schools with one goal – ensuring that all our students can continue to learn, grow, and achieve.
Thank you for joining us and for making a difference in the lives of current and future Rockets!
Frequently Asked Questions:
Q: What is #RivalsUNITE4Girls?
A: #RivalsUNITE4Girls is a four-day annual fund giving campaign in support of girls' Catholic education in Louisville! Assumption, Mercy, Presentation, and Sacred Heart have put their differences aside to come together for this ever-important initiative.
Q: When is #RivalsUNITE4Girls?
A: #RivalsUNITE4Girls starts at 12:01 a.m. on Tuesday, April 14 and ends at 11:59 p.m. on Friday, April 17.
Q: Who can participate in #RivalsUNITE4Girls?
A: Anyone can participate in #RivalsUNITE4Girls! In the past, this campaign has only involved alumnae, but this year, parents, grandparents, friends, and community members can make a difference in supporting Assumption during this campaign.
Q: What is the Annual Fund?
A: The Annual Fund bridges the gap between the cost of tuition and the true cost of the Assumption experience. Currently, it provides much-needed tuition assistance to more than 200 students and will continue to help current and future families.  For more information on the Annual Fund, click here.
Q: How do I make my donation during #RivalsUNITE4Girls?
A: You can make your donation online using Paypal, through Venmo @AssumptionHighSchool, or by mail to Assumption High School, ATTN: #RivalsUNITE4Girls, 2170 Tyler Lane, Louisville, KY 40205.
If you have questions about #RivalsUNITE4Girls, please contact Assumption's Advancement Office at (502)458-6258.
"While I was a student at Assumption the best parts of me were nurtured," said Monica Hardin '00, an alumna of Assumption High School. "I am forever grateful to be a part of this sisterhood and to receive the rights and responsibilities that come along with it. That's why it's so important to support this campaign to help other young women who come after us."